Southern New Hampshire University
Unique Venue Features
Runner-Up: Inclusive Meetings & Events
Event Types Welcomed
Adult Social Events

Corporate Social Events

Expo/Competitions

Family Reunions

Professional Meeting / Training / Conference / Retreats

Wedding Ceremonies

Wedding Receptions

Youth Retreat/Camps
About
Southern New Hampshire University is a great location to host your summer camp, corporate retreat, reception, charity/non-profit event, community walk, business meeting, expo, or conference. Just minutes from Interstate 93, SNHU's 300-acre campus sits on the bank of the Merrimack River in beautiful Manchester, NH. SNHU's fully capable campus can provide facilities, audio visual and catering as well as complimentary parking for your next event in Manchester, NH. Come visit today and see why everyone is talking about Southern New Hampshire University! We can't wait to show you our Manchester venue!
Banquet and meeting facilities include a function room, breakout rooms for 10 to 500 people, an executive boardroom, and a 218-seat auditorium. The Dining Center Banquet Hall is a great place to host an event with state-of-the-art technology for presentations, wireless Internet, banquet-style seating for 275, theater-style seating for 400, dividable space to allow for two venues, computer network access with up to 200 physical ports of connectivity, two LCD projectors with two 15-foot diagonal screens, and catering services to accommodate all of your food and beverage needs.
For more information and to see photos of our conference centers and event spaces in Manchester, NH, please visit our Facebook page at http://www.facebook.com/snhuconference 
You can also call our office at 603-506-5023 and we would be happy to answer all your questions. Our office hours are Monday-Friday 8:00 AM-4:30 PM. We can accommodate events during the day, at night, as well as on weekends.
Watch the video above to learn even more of the attributes that make Southern New Hampshire University the premier Manchester, New Hampshire event venue. Chat with us now.
Meeting & Event Spaces
Max Capacity: 1200 guests
Largest Classroom Style: 200
Largest Theatre Style: 1000
Largest Auditorium Seating: 218
Largest Seated Reception: 750
Academic Year Largest Group: yes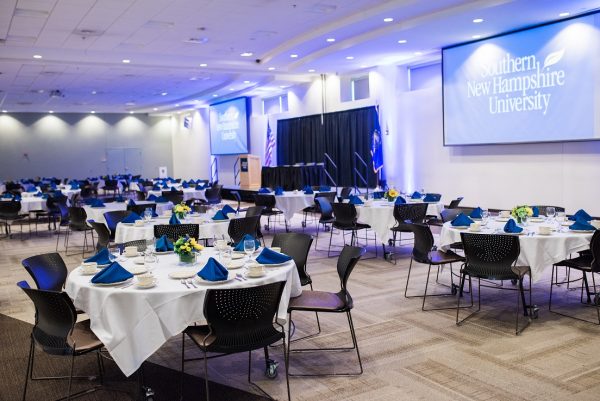 Dining Center Banquet Hall
The Dining Center Banquet Hall includes state-of-the-art technology for presentations, wireless internet, banquet-style seating for 250, theater-style seating for 400, dividable space to allow for two venues, computer network access with up to 200 physical ports of connectivity, two LCD projectors with two 15-foot diagonal screens and a variety of decor options.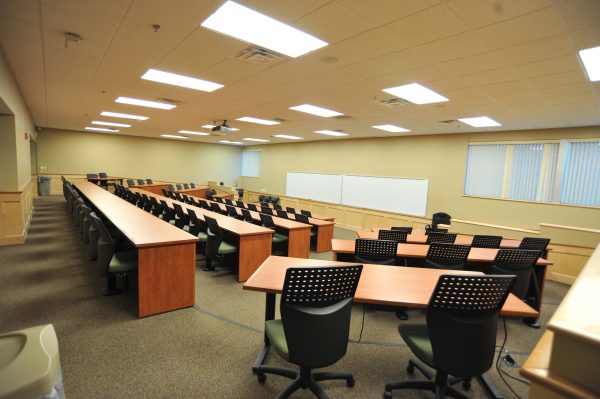 Academic Center
The Academic Center is a great location for professional seminars, break out meetings or socials. The Building includes small boardrooms equipped with state of the art technology, classrooms with projectors and smart technology boards, a seminar style classroom that seats 70 and a learning commons/patio area that can be used for social events.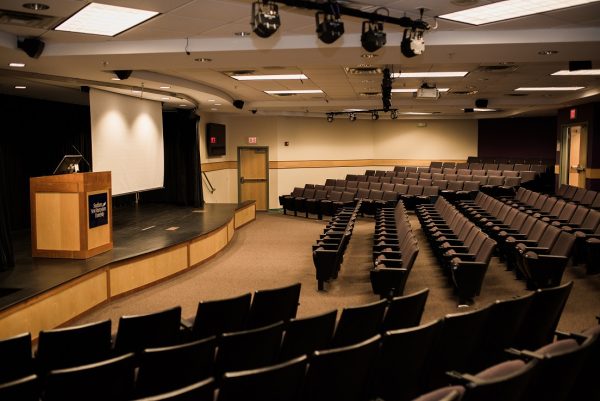 Walker Auditorium
Located in Robert Frost Hall, Walker Auditorium can accommodate up to 218 people. This auditorium is a great location for presentations, panel discussions, movie screanings, and training sessions. The room also features an adjecent lobby for socials, check-ins, small expo's and socials.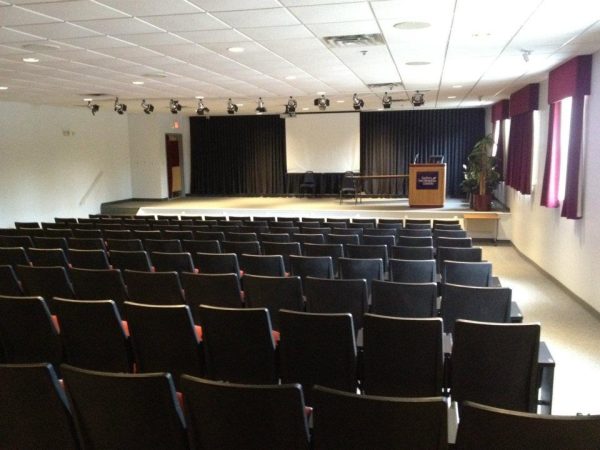 Mara Lecture Hall
The Mara Lecture Hall, located in Webster Hall, is the second largest lecture hall on campus accommodating up to 147 guests. The space is great for presentations of any kind!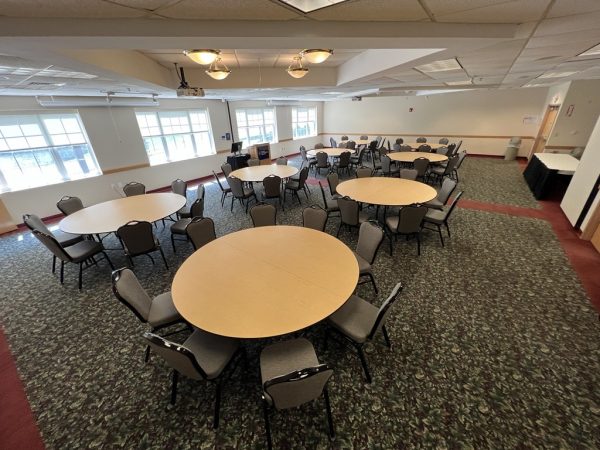 Hospitality Salons
Located in the Hospitality Building which also includes a state of the art restaraunt, classrooms and a boardroom, the Salons can accommodate up to 80 guests in seated recption style or up to 100 people seated theater style. This location is convertable so it can be used as one large space or two individual spaces making it ideal for any function. The Salons feature two LCD projectors and drop down projection screens making audio visual functions simple.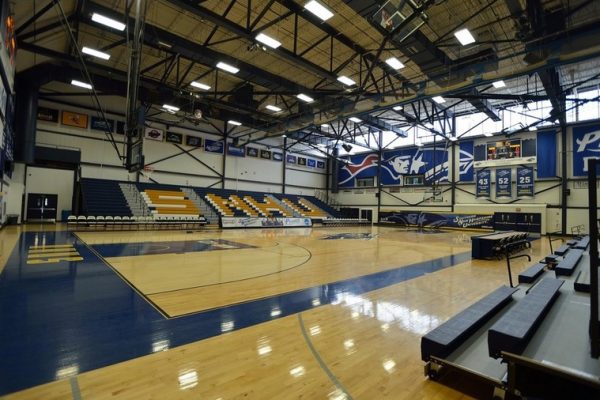 Athletics
SNHU offers a variety of athletic facilities including baseball, softball, soccer/lacrosse fields, an outdoor track, a raquetball court, pool and two gymnasiums. The small gym includes a large stage and can accommodate 450 guests for a seated reception, while the fieldhouse gym includes built in bleachers and can accommodate up to 750 guests at a seated reception.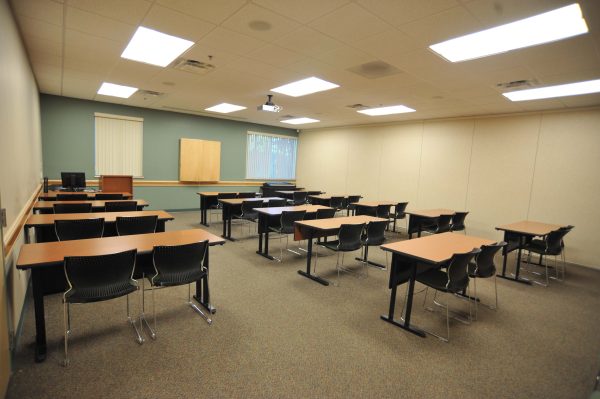 Classrooms
Throughout the SNHU campus there are a variety of classrooms in four different buidlings. Classrooms include computer labs, science labs, tiered seating, smart boards, drop down ceiling projectors and much more.
Food & Beverage Options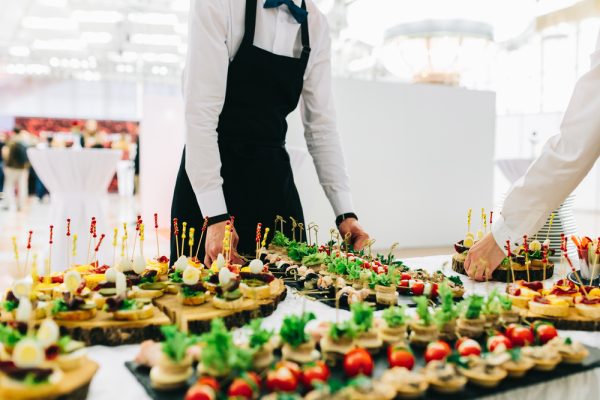 SNHU Dining Center
Opened year round SNHU's Dining Center offers a wide-variety of culinary options ranging from traditional breakfast, culinary marketplace, Street-Fusion, and a Greens and Grains menu. Retail spaces such as Dunkin Donuts, Einstein Bros. Bagels and Wick Deli can be found in our academic buildings.
Catering options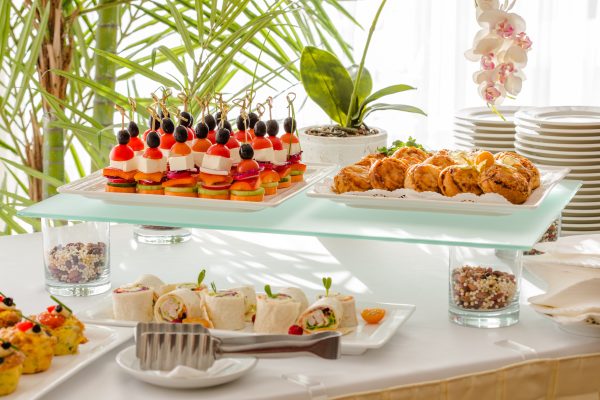 American Dining Creations
Southern New Hampshire University is pleased to introduce American Dining Creations (ADC) as their banquet catering partner. ADC is a unique hospitality partner that has a fresh and different approach to their dining service offerings. They offer food services motivated by quality and innovation; commitments known as "The Fresh Difference." Whether you are planning a corporate meeting, a multi-day conference, holiday party and more, ADC offers a custom style dining experience to ensure the needs of all clients are met. Contact ADC today to experience their culinary experience and visit their catering menu through the link provided below. Catering Menu: https://snhucatering.catertrax.com/ For more information, please contact American Dining Creation's catering administrator, Tina Grijalva at tgrijalva@afvusa.com or call 603-314-7528.
Accommodations
Total Number of Overnight Guests: 600
Number of Overnight Rooms: 400
Wi-Fi in Guest Rooms: Yes
Wi-Fi Guest Room Cost : Free
Overnight Room Attributes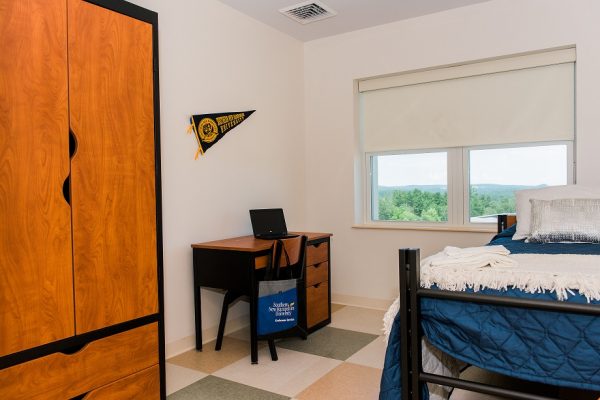 East Side Suites
Available from late May until early August the East Side Suites sit on top of a hill with a great view of the Merrimack River and the surrounding woods. These buildings are air conditioned and are made up of "pods", meaning that there are 2 singles, 2 doubles as well as a bathroom area per unit. Amenities include large lounges per floor, two meeting rooms (one per building), two laundry rooms (one per building) and a first floor kitchen. Groups have the option of renting linens and other amenities from Conference & Event Services.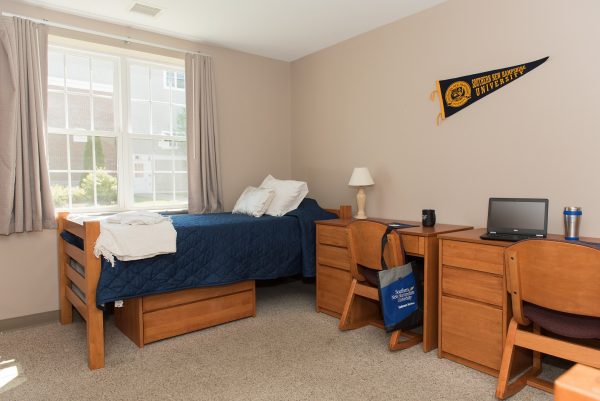 Tuckerman Hall
Tuckerman Hall is one of Southern New Hampshire University's newest residence halls. Completed in 2013, the residence hall has single, double, and quad accommodations with shared, private, and semi-private bath options. The large meeting room, on site laundry, eat-in kitchen, and fitness center are all additional amenities provided to guests of the building.
Featured Amenities
Accessible Facilities

Air Conditioning

Bus

Car Charging Station

Complimentary Parking

Fitness Center

In-House Catering

Lactation Station

Laundry

Linens

Near Public Transit

Outdoor Space

Overnight Rooms

Paid Parking

Running Trails

Sports Facilities

Taxi

Theater Seating

WiFi
Venue Location + Transportation
Address
2500 North River Rd,
Manchester, New Hampshire 03106
Nearby Airport
Manchester Boston Regional Airport - 15 minutes
Nearby International Airport
Boston Logan International - 60 minutes
Nearby Cities
Boston – 52|Portland, ME – 94|Providence, RI – 102
Things to Know
Catering
Must Use In-house Catering: Yes

External Catering Allowed: No

Can Bring in Own Food: no

Cultural Catering Available: Yes

Food and Beverage Onsite: Yes

Do you offer tables, chairs, and linens?: Yes
Technology
SNHU's facilities are outfitted with the latest in meeting technology. Each classroom is equipped with a computer teaching station, projector, and screen. Our audio-visual staff can also offer teleconferencing services, video recording, and live streaming. Don't let the day of details get you nervous either, a member of our audio-visual team will be there to assist you!
Guest Wi-Fi: Free

Onsite Tech Support: Yes

Wi-Fi in meeting space: Yes

Equipment Available On-Site:

Projector Screen
Laptops
Microphones
Sound System
Custom Lighting
Venue Policies
Alcohol Consumption: Yes

ADA Accessible: Yes
Testimonals
"Southern New Hampshire University was the perfect venue for our inaugural Reason to Hope breakfast event. Kelly and her team were so easy to work with. All of the details were expertly handled from the timing of the food service with our program to the outstanding AV capabilities. Breakfast was delicious and I look forward to working with them in the future."
Caitlyn Mosher Ellis- Alzheimer's Association
Our group, Weave A Real Peace, held our annual meeting in June, 2013, on the campus of SNHU. Right from the start, Kelly Haskell, the Summer Programs and Marketing Coordinator, was a joy to work with. She kept track of details, wasn't fazed by the inevitable changes, and was always willing to be flexible. There were no hidden or additional charges. The food was healthy and plentiful; the rooms were clean; the meeting spaces, both formal and informal, were just what we needed. I would highly recommend SNHU as a meeting place. June, 2013
Jackie Abrams, WARP Annual Meeting Coordinator
Last evening was pretty seamless! The signage was easily readable despite the heavy rains. Jason was there on time to make sure we had everything we needed. The table set up was just what we wanted. The room and facilities were super clean! It was terrific. We are looking forward to our next meeting there in September! July 9, 2013
Karyn Battey, Pampered Chef
Too often we don't take the time to celebrate successes, but I wanted to be sure to touch base to tell you what a pleasure it was to work with Kelly Haskell on our two recent multi-day management training sessions in September and October at SNHU's Hospitality Center. She made it a point to check in with the presenter each morning to be sure that all arrangements were in place as requested and address any issues that may have arisen the day prior. Her attention to detail, her pleasant, positive attitude and customer centric approach was delightful. The trainer commented that "...there were no glitches and working with Kelly was wonderful... There were no issues and at this point no room for improvement." Kelly truly went the extra mile to be certain that our event went well. As a result of this very positive experience, SNHU has certainly become a venue that I will consider again when planning off-site meetings. -October 17, 2013
Susan Smith, Merchants Fleet Management
"We had our wedding in the banquet center at SNHU in August 2013. Kelly was fantastic to work with! She took care of everything including all the little details – from ordering rentals, to working with A/V to perfect the turquoise uplighting (which they made a custom color for us to match), to helping us set up the room the night before and calm our nerves. I would recommend her to anyone. Linda was wonderful with the food as well and everyone was pleasantly surprised with the buffet. The room was huge and comfortably fit all our guests with plenty of room for dancing and moving around. The bartender was efficient and knowledgable. Thank you for assisting with our special day, it couldn't have been better!"
Michelle Archer, Wedding
The New Hampshire Master Gardener's Association, an affiliate of UNH cooperative extension, had held its annual Welcome Spring Symposium in a NH conference center for 8 years, until this year. The cost there had gotten prohibitively high for our non-profit. After our 2013 symposium we searched for a new venue that would allow us to have a location where all could assemble for a keynote speaker and then have breakouts all day for smaller group sessions. We settled on SNHU for our March 22nd, 2014 symposium. We were not disappointed!! SNHU provided us with the Walker Auditorium that had fantastic acoustics and state-of-the art audio visual equipment in both the auditorium and all the rooms we used. The student AV assistance they provided us for the day was top notch. The food provided was not only delicious, the presentation was beautiful and the food servers were very attentive. Denise, the SNHU conference manager, had everything arranged as we had requested when our delegation arrived early in the morning, from lobby table arrangements to easels. It takes a great team to pull off a flawless conference and SNHU certainly provides that! Thanks SNHU! - March 25, 2014
Jan Woodbury, New Hampshire Master Gardeners Association
Need to hold a meeting? Have it at SNHU. From reserving the room to getting the equipment connected and access to the internet, couldn't be easier, couldn't be better. Holly and her crew are the best.
February 2020
Steve Grocott -New Hampshire Babe Ruth Softball
Services
Event Coordination
Feel at ease at the day of your event with the help of our experienced event planning team. From small details to large details, let our staff help you along the way. Coordination includes helping to ensure the event runs smoothly, coat checking, printing services, shuttle services, registration services, event décor and more!
Security
Our campus includes 24 hour security throughout the campus and the option to hire extra security for events (at an hourly rate).
Signage
Find directional signage strategically placed around campus to get your guests to the right location.
Skirting & Drapery
Table skirting is avialable in black and brown for 8 ft. and 6 ft. tables as well as cabaret tables. Pipe and Drape is available in black in varying lengths and widths.
Technology
Complete Media Services
Media Services offers a number of packages and resources to complete any event. Our in-house staff can accommodate all of your technology needs.
Portable 72" Screen
Wired/Wireless/Lavilier Microphones
Dell Laptop
Up-lighting
Custom gobo
Teams Conferencing System
Tech support (hourly)
And much more!
In Room Technology
The Dining Center Banquet Hall, lecture halls, auditorium, boardrooms and classrooms are furnished with drop down projector screens, computers and multiple lighting settings.
Southern New Hampshire University
We Connect Unique People With Unique Spaces
At Unique Venues we believe that at the core of being unique is inherent inclusivity. We celebrate the notion that people gather for different reasons and that audiences are filled with humans of every race, gender expression, spiritual belief, sexual orientation, age, political leaning, and more.
All planners who inform us of a booking at one of our venues will be eligible for our monthly drawing for a $25 Amazon Gift Card. Be sure to let us know that you booked one of our outstanding unique sites! Just shoot us an email: sara@uniquevenues.com.
Southern New Hampshire University